Are you interested in an international career in software development or want to move to Sweden? Great! We can help you get started. In this post, we will walk you through the three steps you need to take to make it happen.
Why DataJob?
When it comes to uplifting your career in software development, DataJob is your secure partner. We are a software consultancy company with more than 10 years of local presence in the Nordics. Our services cover recruitment, relocation, logistics, legal and local support for on-site IT consultants and for team outsourcing.
DataJob is the matchmaker between the companies and the IT Consultants. By connecting the right developer with the right company, we want to ensure a long-term collaboration between both sides.
Here at DataJob, we take our Recruitment Process seriously and we work to make it as easy as possible for you. We know it can be daunting, so we put together a three-step guide to help you get started with us.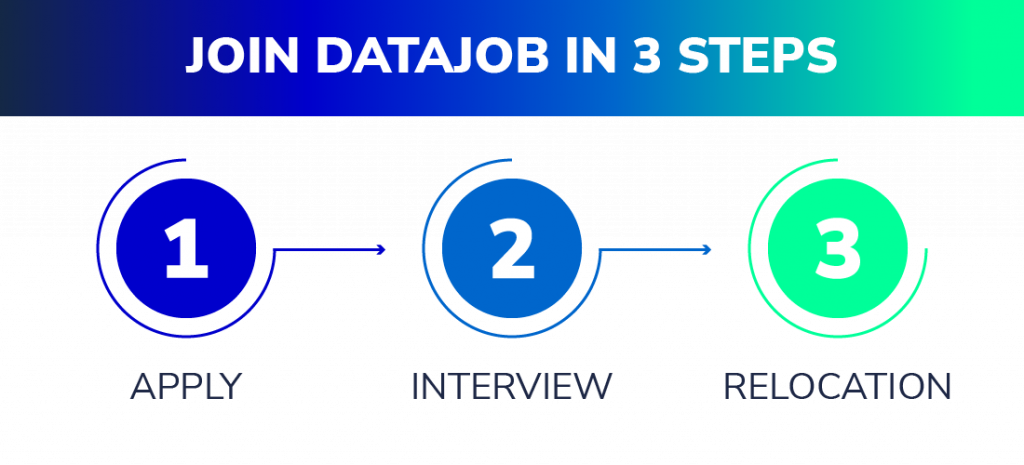 Step 1 – Prepare before applying
At the very beginning, you need to decide what type of position you want. Are you a developer, a tester, or a project manager? Are you a senior developer, a subject matter expert, or comfortable being a lead developer? Once you have narrowed it down, you will be one step closer to finding the perfect job.
Make sure your CV is up to date and ready for submission. Periodically update your CV with your most recent achievements, remove outdated information and adjust your skills to be relevant to the role you are applying for.
Choose one or few vacancies from the open job positions section on our website and apply. We will contact you as soon as possible. Also, be prepared for interviews and tests.
Step 2 – Get ready for some interviews
First, we take a look at your skills and experience. On the initial interview, we will try to learn more about you, so we can match you with a job that is the right fit. We have a wide range of partner companies, so you can be sure to find the perfect career opportunity for you and a company with a culture that aligns with your own values.
Next, we will put you in touch with one of our client companies. They will interview you and see if you are a good fit for their team. In some cases, additional tests can be set up, to help them understand your coding style and preferences.
Finally, if you and the company decided that you are a good match, the process of contract signing is performed directly with DataJob.
Now it is time to start the relocation process! We will guide you with that too.
Step 3 – Finish the relocation process
The process of relocation is simple, and it takes from 3 to 6 weeks.
You can move by yourself or with your family. DataJob provides the whole package and expenses such as documents, flight, and baggage for you and your family members.
With the help of contract agencies, we will be able to find you the right home and adequate form of education for your children, so your stay in Sweden can be pleasant.
What really matters in this process is the emotional support to maintain stability. We have a community group of other employees that have been through this process, and that understand and support each other. Our colleagues will help you to navigate through your new career, learn the local culture, and ensure success and general satisfaction.
Final words
DataJob will be at your service throughout the whole period of applying, recruitment and relocation and prepare you for your international career in software development. All you need to do is to follow the 3-step process, and we'll take care of the rest.
Our HR team helped more than 50 software developers to relocate to Sweden. Be one of them by applying to one of our open job positions.
We hope you found this post helpful. Good luck on your journey to a new career!